Logging
Free Estimates
100% Satisfaction Guaranteed
Industry-Standard Equipment
Reliable Service
Competitive Rates
Locally-Owned Company
GET A FREE ESTIMATE
Logging Contractor in Southern Maryland & Northern Virginia
If you're looking for an environmentally-sound way to benefit from the equity in your timber, our team can help. We offer sustainable harvesting and logging practices to all of Southern Maryland including St. Mary's, Charles, Calvert, Anne Arundel, and PG County as well as parts of Northern Virginia in King George, Stafford, and Westmoreland County.
We take care not to strip the land. Instead, we use green, earth-friendly forestry techniques to preserve the land. As a company located in Waldorf, we strongly abide by Maryland's Best Management Practices (BMP) in all we do and offer both selective cutting and clear-cutting depending on the situation. Give us a call today and we'll begin with a full walkthrough of your timberland. We do our best to keep our landowners continuously updated each step of the way.
"Timber!"
Most logging companies hire others to harvest their timber, which puts their firewood customers at risk for receiving less than quality wood. We're proud to harvest ourselves, which allows us to offer landowners (you!) competitive rates for their standing timber and our firewood clients top-notch wood and kindling. Give us a call for more information on our harvesting practices and how we determine our rates.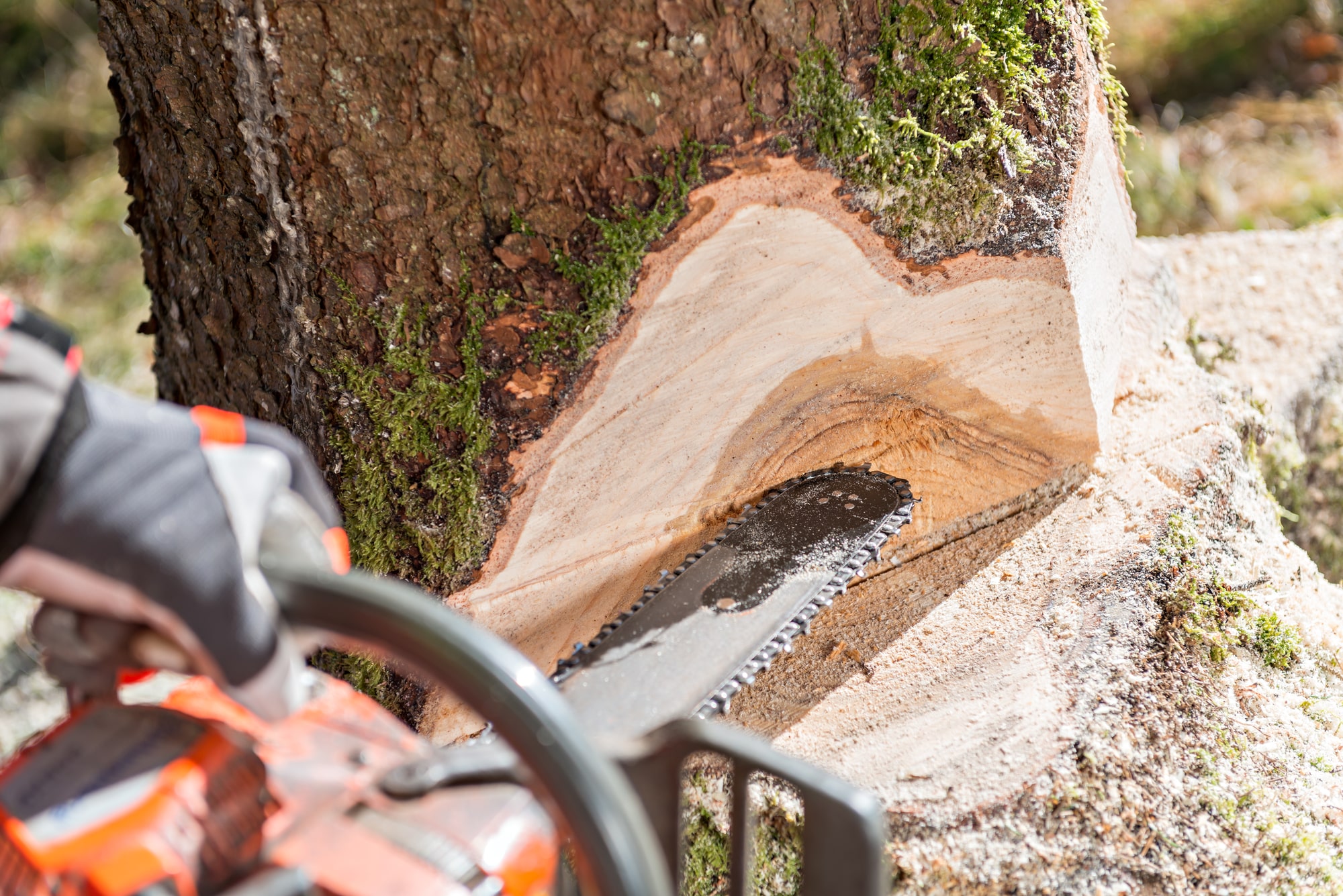 From Forest to Truck: Our Logging Process
1. Cruising
We will do a full walkthrough of your timberlands to identify your most profitable timber and approximate its value.
2. Felling
Next comes the tree felling, which requires making expert cuts – an undercut, which serves as a hinge or guide for which direction the tree will fall, and a back cut, which allows the tree to fall. It's essential that these cuts are made perfectly to ensure the tree falls in a certain spot and to avoid injury.
3. Bucking
We then remove all limbs and cut the felled tree into logs using a professional-grade chainsaw. This requires making cross-sectional cuts in the wood and elevating or supporting the tree to avoid sawing the ground.
4. Skidding
Next, we skid the cut logs from your timberland to our roadside landing for loading. This involves attaching the logs to a tractor or a forwarder and driving them along prepared skid trails to protect the forest floor.
Why Choose Us?
Why work with us? We have always loved the Southern Maryland area. It is the perfect area to raise our small family and offers a lot of opportunities to enjoy the beautiful outdoor surroundings. It makes us happy to serve the SOMD and NOVA area with our professional logging services. Hire a company that genuinely cares for the area and the local land. Our team wants to make you happy and give you what you deserve for your quality timber –  a mutual benefit! Give us a call today.
Great experience all around. Was impressed with the customer comms and service. (A rare thing nowadays) Responded to my inquiry with plenty of info and right away. Even answered the questions I forgot to ask.
Our Service Areas:
St. Mary's City
Waldorf
Chesapeake Beach
Dunkirk
Bowie
Annapolis
Severna Park
Deale
Mechanicsville
Stafford, VA
King George, VA
Montross, VA
And more!